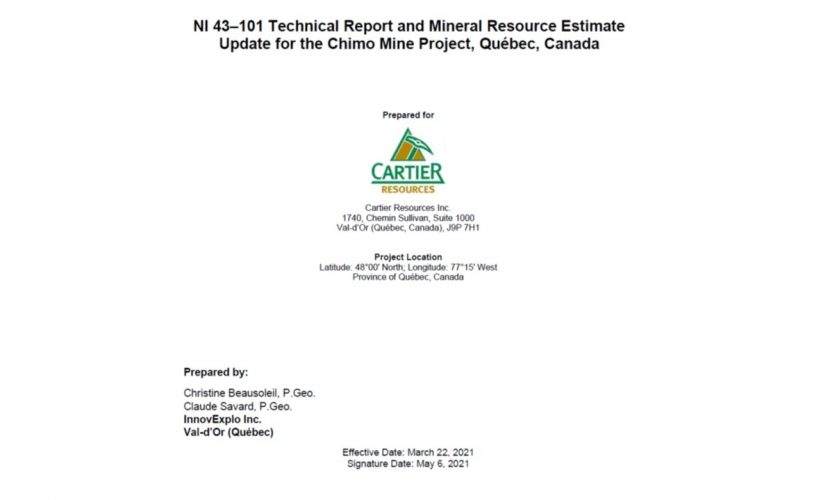 May 7, 2021
Cartier Files on SEDAR the NI 43-101 Technical Report for the Mineral Resource Estimate of the Chimo Mine Property
Highlights of the Chimo Mine property:
The new resource estimate consists of (FIGURE) :
6,616,000 tonnes at an average grade of 3.21 g/t Au for a total of 684,000 ounces of gold in the Indicated category and ;
15,240,000 tonnes at an average grade of 2.77 g/t Au for a total of 1,358,000 ounces of gold in the Inferred category.
The resource estimate is constrained using DSO ("Deswik Stope Optimizer") with a cut-off grade of 2.0 g/t Au for the North and South Gold Corridors and 1.5 g/t Au for the Central Gold Corridor and using a price of gold of USD 1,612 US / oz.
The results of recent work, that add value to the resources, include :
The industrial sorting tests of the mineralization allowed to produce a concentrate representing more than 50% of the mass of the original material with a percentage increase of 170% of the gold content compared to the feed of the sorter. The increase in the content of the preconcentrated material, preceding the machining operations, favors:
Increase the recovery rate at the mill;
Reduce transport costs to the mill as well as the milling costs;
Reduce the environmental cost of restoration of mine tailings;
Reduce the environmental footprint of mine tailings and consequently increase the social acceptability of mining project.
Ongoing internal engineering studies, developing and producing the design of optimal mining scenarios to minimize costs and recover the most ounce of gold possible, are progressing in line with the results described above.
The potential to increase the resources below and peripheral to the 27 gold zones on the property (FIGURE) remain good.
Val-d'Or, May 7th, 2021 – Cartier Resources Inc. (TSX-V: ECR) ("Cartier") announces that it has filed on SEDAR the technical report titled " NI 43-101 Technical Report and Mineral Resource Estimate for the Chimo Mine Project, Quebec, Canada ", bearing the date of signature of the May 6th, 2021.
The NI 43-101 compliant report, completed by InnovExplo Inc. for Cartier, presents the results of the updated mineral resource estimate for the Chimo Mine Property situated along the Larder Lake – Cadillac Fault, 45 km to east of Val-d'Or.  The report is available on SEDAR and on the Company's website.
Mineralisation on the Chimo Mine Property is comprised of 27 Gold Zones hosted within 17 Gold Structures; the latter grouped within 3 Gold Corridors.  The Mineral Resource Estimate to date for the property is presented in the following table (FIGURE):
see complete release in pdf file below
---
Document(s)