Cartier presents at the Online Investment Conference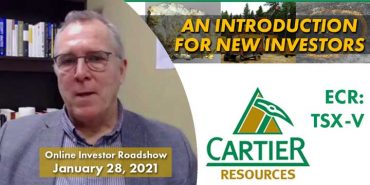 Philippe Cloutier, President & CEO, delivered Cartier Resources latest Online Investor Roadshow presentation to the Online Investment Conference audience, January 28, 2021. The purpose of the presentation was to introduce the Cartier Story to new investors while at the same time updating current investors with recent developments.
"A Close Look at the 30,000 meter Drill Program at the Benoist Property" – Cory Fleck Interview

On his January 25 Podcast, Corey Fleck of the Korelin Economics Reports featured Philippe Cloutier, President and CEO of Cartier Resources (TSX.V:ECR) to kick off the week's interviews with an in depth look at the 30,000 meter drill program just started at the Benoist Property. Discussed were the 4 phases of the program and overall goals of each phase. Listen to the Podcast here.

Latest Slide Deck