"A Focus on the Benoist Property and Upcoming Large Drill Program" – Cory Fleck Interview

On his December 19 Podcast, Corey Fleck of the Korelin Economics Reports featured Philippe Cloutier, President and CEO Cartier Resources (TSX.V:ECR) wraps up the show by outlining the upcoming 30,000 meter drill program at the Benoist Property and the recent Resource Estimate that was released.

"New Resource Re-Rate Imminent from 4 Bagger" – CRUX Investors Interview
It was good to catch up with Cartier Resources and to recognise the progress that they've made during 2020 on their core asset. We look forward to the drilling results and the new resource coming out during the early part of 2021, which should see the company re-rate. It is important to note that once the PEA is complete, Cartier Resources would look for a partner or a sale to develop the Chimo project through economic studies and into production, as this is not their specialty. The same model will be followed for their conveyor belt of other projects too. They know what they are good at and where they want to monetise their efforts. So must investors.

Latest Online Investor Roadshow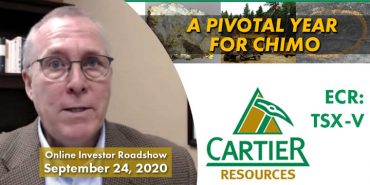 Cartier Resources latest Online Investor Roadshow was delivered September 24, 2020 by CEO Philippe Cloutier on the Online Investment Conference. The presentation was designed for new and existing investors: new investors were provided with a brief overview of the company, while existing investors were provided with more information on the company's latest news release of September 22, 2020 which described the strong hoisting capabilities of the shaft on the Chimo Mine property.

Latest Slide Deck