"A Focus on the Benoist Property and Upcoming Large Drill Program" – Cory Fleck Interview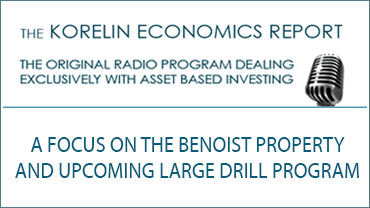 Cory Fleck of the 'Korelin Economics Report' interviews Philippe Cloutier, President and CEO of Cartier Resources (TSX.V: ECR – OTC: ECRFF) for a radio interview "Focusing on the Benoist Property and the upcoming drill program. While the Company continues to advance the Chimo Mine Property through an updated resources and PEA, the Benoist Property will provide news flow and possible catalysts. Philippe and I start with the history of the project and historic drill results. Then we focus on the upcoming drill program and all the targets that will be tested."

Turning Heads of the Majors in Quebec – SF Live – Ep.88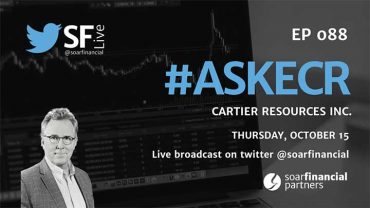 Originally live streamed on October 15th, 2020 at 10am PST.   Philippe Cloutier, President & CEO, interviewed by Soar Financial Group CEO Kai Hoffmann. Kai catches up with CEO Philippe Cloutier to get more color on a recently released engineering report on the existing shaft at Chimo.

Latest Online Investor Roadshow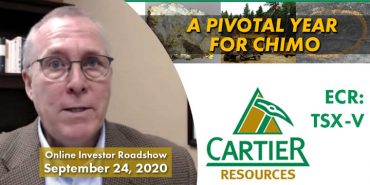 Cartier Resources latest Online Investor Roadshow was delivered September 24, 2020 by CEO Philippe Cloutier on the Online Investment Conference. The presentation was designed for new and existing investors: new investors were provided with a brief overview of the company, while existing investors were provided with more information on the company's latest news release of September 22, 2020 which described the strong hoisting capabilities of the shaft on the Chimo Mine property.

Questions We Get Asked
Submit a Question of Your Own
---
Latest Slide Deck