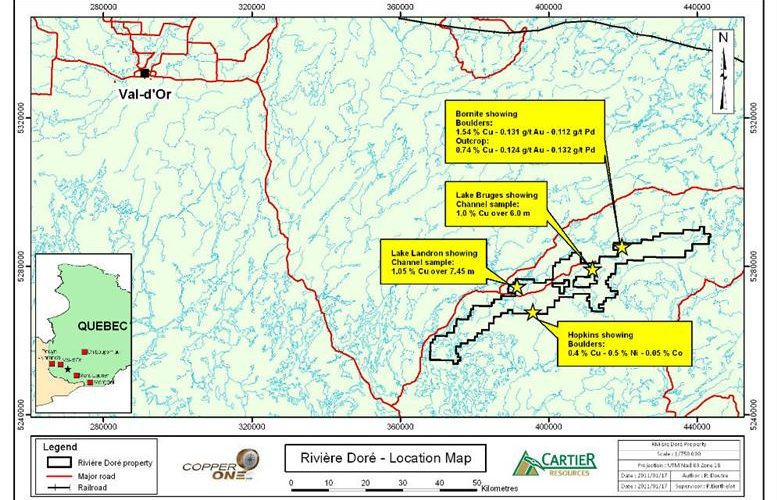 January 18, 2011
Cartier Signs Option and Joint Venture Agreement for its Rivière Dore Copper Nickel Property
Val-d'Or, Quebec, January 18, 2011 – Cartier Resources Inc. (TSX-V: ECR) ("Cartier") is pleased to report that, subsequent to the Letter of Intent announced on October 28, 2010, it has signed the Option and Joint Venture Agreement (the "Agreement") with Copper One Inc. (TSX-V: CUO) ("Copper One") to explore and develop the Rivière Dore Copper Nickel property (the "Property") in Quebec. Copper One can acquire up to a 75% interest in the Property, located near the town of Val-d'Or, Quebec. The 52,400 hectares project area covers an 80 kilometer long newly discovered layered mafic intrusive complex. Copper One and Cartier have recently reported numerous high copper and nickel showings, including net textured copper-nickel sulphides in pyroxenite.
Under the terms of the Agreement, Copper One will earn a 51% interest in the Property by funding $5 million of exploration expenditures, including $750,000 before December 31, 2011, and by making a cash payment of $250,000 to Cartier and issuing to Cartier 350,000 common shares before December 31, 2015. Copper One can earn an additional 24% interest in the Property, for an aggregate total interest of 75%, by completing a bankable feasibility study or by making further expenditures of $20,000,000.
Cartier will manage the exploration program during the initial option period. After the first year of the initial option, Copper One may elect to operate the project. If it elects to do so, Copper One will make an annual cash payment to Cartier of $50,000 for each year that it shall operate the project during the initial option. The Agreement provides that a joint venture will be formed once Copper One's interest has reached 51% or 75%, at Copper One's discretion.
Copper One and Cartier are completing an aggressive exploration program focused on initiating drilling on the vast, underexplored property during the second quarter of 2011.
Map: Location and Exploration Highlights
About Cartier Resources Inc.
Cartier is an exploration company focused on gold and currently holds significant land holdings in the prolific Abitibi Gold Belt in Quebec. The company's portfolio of properties consists of wholly-owned projects which are managed by a team of geologists who have a proven track record of making significant discoveries.
-30-
For further information please contact:
Philippe Cloutier
President and CEO
Cartier Resources Inc.
Telephone: 819 874-1331
Fax: 819 874-3113
info@ressourcescartier.com
www.ressourcescartier.com
The TSX Venture Exchange does not accept responsibility for the adequacy or accuracy of this press release.