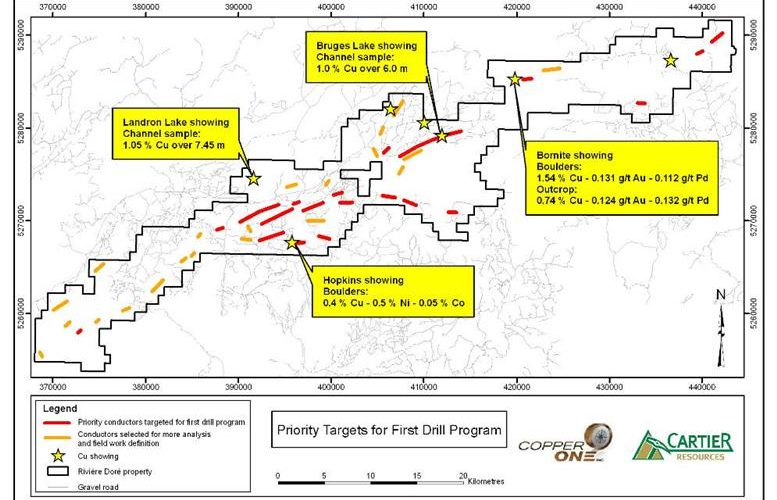 May 26, 2011
Cartier Selects 35 Priority Targets for First Drill Program on its Copper-Nickel Rivière Doré Project
Val-d'Or, Quebec, May 26th, 2011 – Cartier Resources Inc. (TSX-V: ECR) (« Cartier ») has completed the first target prioritization for drilling on its Rivière Doré copper-nickel project located southeast of Val d'Or, Quebec. Copper One Inc. (TSX-V: CUO) is currently earning an interest in the project by funding all exploration work. 35 primary targets have been selected through property-wide modeled AeroTEM IV geophysical data. Targets were selected and prioritized on the basis of favorable field geology and geochemistry gathered by Cartier staff.
For this first drill program, 35 priority targets were selected to cover the most prospective areas throughout the 60,500 hectares project which cover 80 km long prospective layered mafic intrusive complex. The known copper-nickel showings on the project will all be drilled. All targets were selected based on the occurrence of EM conductors, magnetics, known mineralization, till anomalies, favorable geology, and rock sample anomalies that indicate potential for the local presence of copper-nickel sulfide mineralization.
A two-phase diamond drill program is planned. The first phase includes at least 15 targets for approximately 3,000 meters drilling. A second phase is planned following results of the initial holes. Permitting for the drill program is underway and the program will be launched upon receipt of authorization.
"This will be the first drill program ever conducted on this very large project," commented Philippe Cloutier, President and CEO of Cartier. "The challenge is to cover as much as possible with this first pass program. We have targeted the known showings and a wide spectrum of conductors across the project in order to favor discovery and help develop additional drilling targets in the future".
Cartier also wishes to point out that at its' recent Annual General Meeting, a member of the First Nations Lac Barrière community expressed that a group within his community is opposed to mining exploration on the territory claimed by its community and that they had informed the federal and provincial governments of their position. Cartier has consulted with and held information sessions with various groups of the Lac Barriere First Nations community on several occasions. As well it has communicated all concerns and issues with the government authorities. The latter have confirmed that Cartier could commence work upon reception of permits and authorization.
Quality Assurance/Quality Control
The exploration program and the technical information presented in this press release have been reviewed and approved by Mr. Philippe Berthelot, P. Geo., Cartier's Vice President – Exploration, and by Thomas R. Kilbey, Copper One's Vice President – Exploration, a certified professional geologist. Mr. Berthelot and Mr. Kilbey are both considered to be qualified persons as defined by National Instrument 43-101.
-30-
For further information please contact:
Philippe Cloutier
President and CEO
Cartier Resources Inc.
Telephone: 819 874-1331
Fax: 819 874-3113
info@ressourcescartier.com
www.ressourcescartier.com
The TSX Venture Exchange does not accept responsibility for the adequacy or accuracy of this press release.