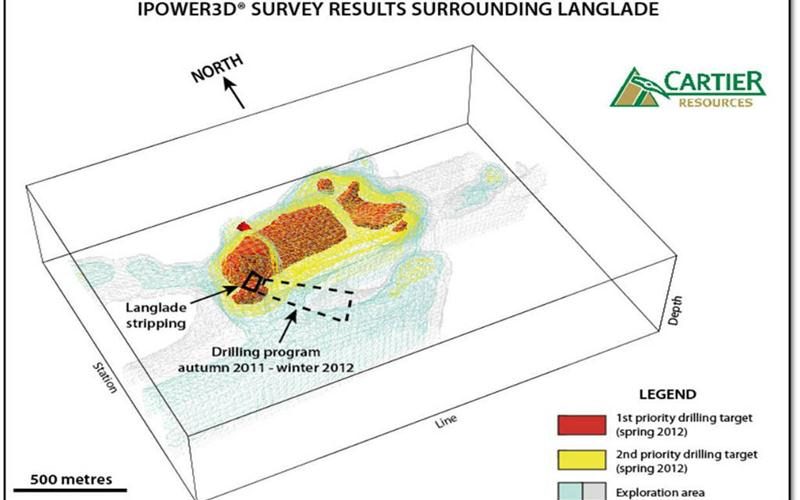 May 3, 2012
Cartier Drills Massive Sulphides Grading up to 10.4% Cu, 1.4% Zn, 109 g/t Ag, 3.6 g/t Au on the Fringes Of IPower3DTM Anomaly on Langlade Deposit / Cadillac Extension Property
Cartier Resources Inc. (TSX-V: ECR) ("Cartier") announce the first results from the second phase drill programme conducted on its Langlade deposit on the Cadillac Extension property. One interval of massive sulphide returned up to 10.4% Cu, 1.4% Zn, 109 g/t Ag and 3.6 g/t Au over 0.6 meters within a wider 50-meter zone of low grade disseminated sulphides. 
  
The company also announces positive results of an IPower3DTM survey completed over an area of 4 square-kilometers covering the current Langlade drilling area.  The survey highlighted ten priority targets that may host disseminated or massive sulphides in an area that remains untested.   
  
"This large conductive anomaly is situated immediately next to the recently intersected massive sulphides and is an important target area for Cartier" commented Philippe Cloutier, President and CEO. "The drill rig will rapidly be mobilized on these high quality targets adjacent to the Langlade deposit". 
  
Information relative to the IPower3DTM survey (An Abitibi Geophysics Inc. registered trademark system): 
The IPower3DTM configuration was conceived in order to maximize the sensitivity of the induced polarization method at two levels: 
·         Readings are taken in multiple directions in order to obtain maximal sensitivity regardless of the orientation of the mineralized zones. Approximately 10 times more data is collected in the field with the IPower3DTM configuration compared to the traditional 2D array. 
·         The values of the apparent chargeability readings from IPower3DTM enable the detection of anomalies which would otherwise be too weak with respect to background values.  The depth of investigation and the capacity to traverse conductive overburden is therefore greatly enhanced. 
  
On the Langlade survey the product of the data inversion from 27 040 readings of apparent resistivity and chargeability is a 3D database of the bedrock resistivity and chargeability. 
Figure 1:   Location of drilling in Langlade area and IPower3DTM results  
  
Summary results of the first three holes of the current programme are presented in the table below; the remainder of the assays are pending: 
 
Drill Hole
From

(m)

To

(m)

Length

(m)

Cu

%

Zn

%

Ag

g/t

Au

g/t

LAN-12-11
48.6
99.7
51.1
0.3
0.4
14
0.2
including
88.4
99.7
11.3
1.0
0.7
22
0.4
including
80.3
82.0
1.7
0.3
0.2
100
2.1
including
90.6
91.2
0.6
10.4
1.4
109
3.6
LAN-12-12
43.0
113.5
72.5
0.4
0.6
12
0.1
including
53.1
63.4
10.3
0.7
1.4
23
0.2
including
49.0
50.0
1.0
0.2
0.4
71
1.3
including
77.6
78.1
0.5
0.2
15.5
5
0.1
LAN-12-13
77.4
128.0
50.6
0.3
0.4
13
0.2
including
79.2
83.1
3.9
0.5
2.6
39
1.0
including
81.3
81.8
0.5
0.3
9.8
21
0.4
including
99.0
100.0
1.0
0.9
0.6
96
1.3
including
124.0
125.4
1.4
2.2
0.5
39
0.2

Quality Assurance / Quality Control
The exploration program and the technical information presented in this press release have been reviewed and approved by Mr. Philippe Berthelot, P. Geo., and Vice President Exploration for Cartier. Mr. Berthelot is a qualified person as defined by National Instrument 43-101. The Cadillac Extension exploration program is conducted under the supervision of Mr. Berthelot. Cartier has implemented and adheres to a strict Quality Assurance / Quality Control program which includes mineralized standards and blanks for each batch of samples. Assay samples are taken from drill core sawed in half with one half sent to a commercial laboratory and the other half retained for future reference. Analyses are either performed by Techni-lab S.G.B. Abitibi Inc. (ACTLABS) in Sainte-Germaine. Quebec, an accredited laboratory. 
  
About Cartier
The Company's objective is to set up a dynamic process which will allow it to develop and maintain a balanced portfolio of mining projects ranging from exploration to resource definition, development and production. Its VISION is to develop the company's current and future assets into mineral production with a schedule consistent with its human and financial resources and respecting sustainable development practices. 
                                                                       -30- 
  
For further information please contact: 
  
Philippe Cloutier 
President and CEO 
Cartier Resources Inc. 
Phone: 819 874-1331 
Toll-free: 877 874-1331 
Fax: 819 874-3113 
info@ressourcescartier.com 
www.ressourcescartier.com 
  
The TSX Venture Exchange does not accept responsibility for the adequacy or accuracy of this press release.