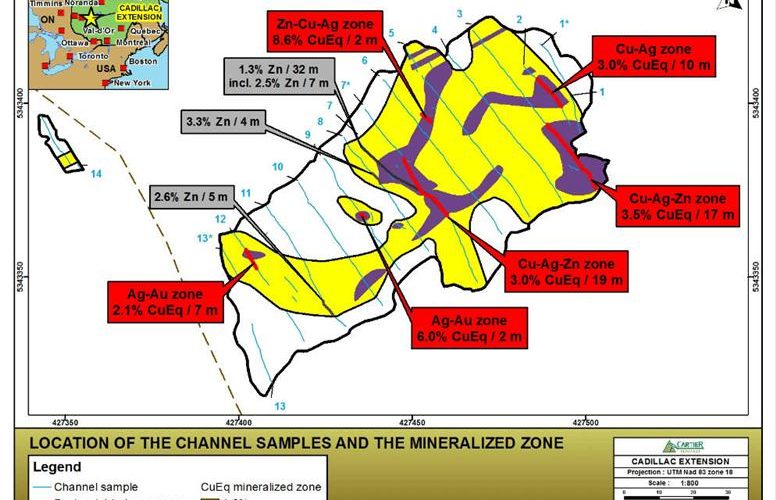 September 28, 2011
Cartier Cuts 1.3% Zinc over 32 metres on Cadillac Extension
Val-d'Or, Quebec, September 28th, 2011 – Cartier Resources Inc. (TSX-V: ECR) ("Cartier") is pleased to announce that it has received all assay results from channel sampling conducted on the Langlade site on the Cadillac Extension project located 115 kilometers east of Val-d'Or in the province of Quebec. The results that were pending from  the trenching program consisted mostly of zinc results and returned up to 1.3% zinc over 32 metres including 2.5% zinc over 7 metres.  Two additional channels cut up to 3.3% zinc over 4 metres and 2.6% zinc over 5 meters. 
Summary for Langlade:
A compilation of all results has delineated a polymetalic zone locally enriched in gold and silver grading over 1% copper equivalent (CuEq) over an area greater than 4000 square meters at surface.  The continuity of the mineralization remains open at depth as well as to the north-west and south.
Four mineralized zones consisting of disseminated to locally massive sphalerite-chalcopyrite-pyrite-pyrrhotite have been identified on the trenched exposure (figure 1).  The latter show the presence of a polymetalic (copper-zinc-silver and gold) system at Langlade. The intersections (weighted averages) from results of contiguous channel samples for each zone were calculated as Copper Equivalent (CuEq).  The best intersections are listed below:
–     Cu-Ag Zone : 2.3% CuEq over 21 metres (1.6% Cu, 48 g/t Ag) including 3.0% CuEq over 10 metres (2.4% Cu, 51 g/t Ag). This mineralization consists of lenses of chalcopyrite and disseminated pyrite-pyrrhotite.  The zone is open to the south and at depth.
–     Cu-Ag-Zn Zone : 3.0% CuEq over 19 metres (1.5% Cu, 1.0% Zn, 100 g/t Ag) and 3.5% CuEq over 17 metres (2.2% Cu, 2.4% Zn, 52 g/t Ag) including 4.6% CuEq over 9 metres (3.2% Cu, 1.7% Zn, 85 g/t Ag). The mineralization consists of sphalerite-chalcopyrite-pyrite-pyrrhotite disseminated and locally massive. The zone is open to the south and at depth.
–     Zn-Cu-Ag Zone : 8.6% CuEq over 2 meters (4.1% Cu, 14.6% Zn, 63 g/t Ag). The mineralization consists of coarse grained sphalerite-chalcopyrite-bornite-pyrite-pyrrhotite massive sulphide lenses. The zone is open at depth.
–     Ag-Au Zone  : 2.7% CuEq over 3 metres (100 g/t Ag, 2.5 g/t Au), 6.0% CuEq over 1 metre (237 g/t Ag, 6.6 g/t Au) and 2.1% CuEq over 7 metres (109 g/t Ag, 0.9 g/t Au). The zone has low sulphide mineralization (<5%), however is intensely altered to gedrite-biotite/phlogopite-garnet, a characteristic of hydrothermal alteration zones associated with volcanogenic massive sulphide deposits in the Abitibi. The zone is open to the northwest and at depth.
Copper Equivalent Calculation (CuEq)
Copper Equivalent (also CuEq) calculation represents the total metal value for each metal, multiplied by the conversion factor, summed and expressed in equivalent copper percentage. These results are exploration results only and no allowance is made for metallurgical recoveries.  The conversion factors used were: 1 kilogram (kg) = 2.2046 pounds (lbs.) and 1 troy ounce/ short ton = 34.28 grams (g). The CuEq calculation was done using the following metal prices: price of copper = 3.5$/lbs., price of zinc = 0.9$/lbs., price of silver = 27$/oz. and price of gold = 1 380$/oz.
"The presence of several zones enriched in precious and base metals demonstrate the polymetalic potential at Langlade" commented Philippe Cloutier, President and CEO of Cartier, adding, "The three dimensional model takes into account all of the geological and structural information from the surface exposure and will be used to orient drilling".
Figure: Location of the Channel Samples and the Mineralized Zone
Table: Table of Cu, Zn, Ag, Au results
Quality Assurance/Quality Control
The exploration program and the technical information presented in this press release have been reviewed and approved by Mr. Philippe Berthelot, P. Geo., and Vice President Exploration for Cartier. Mr. Berthelot is a qualified person as defined by National Instrument 43-101. The Cadillac Extension exploration program is conducted under the supervision of Mr. Berthelot. Cartier has implemented and adheres to a strict Quality Assurance/Quality Control program which includes mineralized standards and blanks for each batch of samples. Assay samples are taken from drill core sawed in half with one half sent to a commercial laboratory and the other half retained for future reference. Analyses are either performed by Techni-lab S.G.B. Abitibi inc. (ACTLABS) in Sainte-Germaine, Quebec, or by ALS-Chemex in Val-d'Or, Quebec, both accredited laboratories.
-30-
Contact Information
Philippe Cloutier
President and CEO
Cartier Resources Inc.
819 874-1331
819 874-3113 (FAX)
info@ressourcescartier.com
www.ressourcescartier.com
The TSX Venture Exchange does not accept responsibility for the adequacy or accuracy of this press release.
---
Document(s)