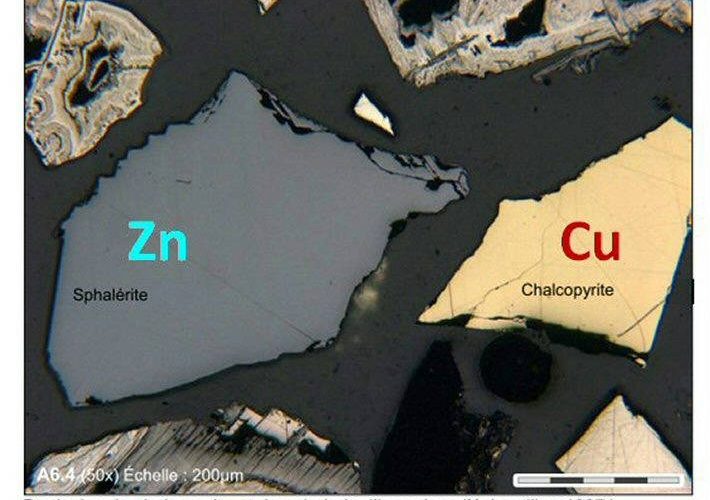 March 27, 2012
A Positive Preliminary Metallurgical Study for Langlade Polymetallic Deposit / Cadillac Extension Project
Cartier Resources Inc. (TSX-V: ECR) ("Cartier") is pleased to share the results of a preliminary metallurgical study requested from the COREM for the Langlade polymetallic deposit, located in the central portion of the Cadillac Extension project. In conducting this type of study in the early work phases of the deposit definition, Cartier is assured that the mineralization that is outlined will have favorable metallurgical characteristics before investing significant amounts in further drilling.
As shown in the picture below, sphalerite containing zinc (Zn) and chalcopyrite containing copper (Cu) are present within the mineralized rock as coarse grains with simple contacts. This mode of occurrence favors an easy release of the economical minerals by crushing. "The majority of energy costs in processing ore comes from crushing, thus an important factor in economic studies for deposit exploitation. The COREM study is good news for us because it suggests moderate crushing needs" commented Philippe Cloutier, President and CEO.
Preliminary mineralogical features observed in different areas of the deposit indicate that it would be possible to industrially produce three concentrates by flotation; a Zinc (Zn) concentrate with complete release of this element, a Copper (Cu) concentrate which would retain much of the gold (Au) and a Silver (Ag) and Gold (Au) concentrate. For the Zinc and Copper concentrates, a flotation cell of release of about 100 microns should not be a problem.
"To facilitate the economic feasibility, Cartier has made the strategic decision to work a portfolio of projects with a specific set of criteria, one being choosing projects with mineralization amenable to simple metallurgical processing. This study was a fundamental precaution. Results show that we can move forward on Langlade" concluded the President.
Complete results of the metallurgical study of the Langlade deposit are posted on the company's website at:  http://www.ressourcescartier.com/en/sites/RessourcesCartier2/Project.aspx?ProjectId=A323B4E7-526C-47D8-A378-75408594C49E
Quality Assurance/Quality Control
The exploration program and the technical information presented in this press release have been reviewed and approved by Mr. Philippe Berthelot, P. Geo., and Vice President Exploration for Cartier. Mr. Berthelot is a qualified person as defined by National Instrument 43-101.
About Cartier 
The company's objective is to set up a dynamic process which will allow it to develop and maintain a balanced portfolio of mining projects ranging from exploration to resource definition, development and production. Its VISION is to develop the company's current and future assets into near to medium term mineral production with a schedule consistent with its human and financial resources and respecting sustainable development practices.
-30-
For further information please contact:
Philippe Cloutier
President and CEO
Cartier Resources Inc.
Phone: 819 874-1331
Toll-free: 877-874-1331
Fax: 819 874-3113
info@ressourcescartier.com
www.ressourcescartier.com
The TSX Venture Exchange does not accept responsibility for the adequacy or accuracy of this press release.