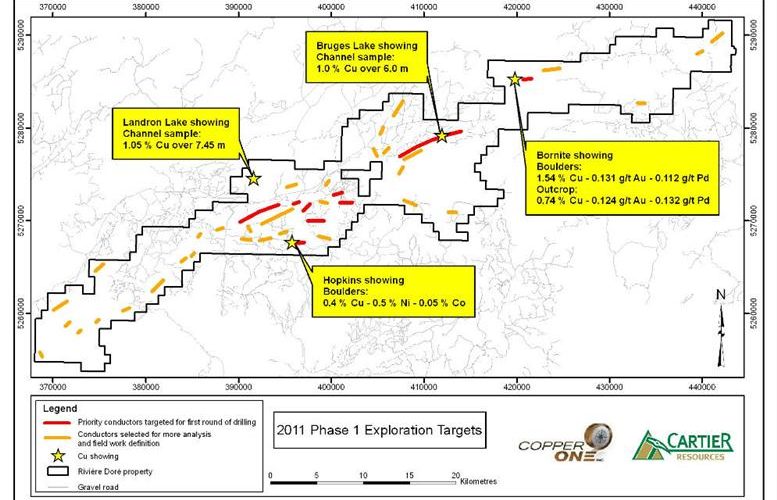 March 15, 2011
High Priority Targets Identified on Rivière Dore Property
Val-d'Or, Quebec, March 15, 2011, Cartier Resources Inc. (TSX-V: ECR) ("Cartier") is pleased to report that 42 conductive target zones ("CTZs") have been outlined on the Rivière Dore copper and nickel property (the "Property") located south-east of the town of Val-d'Or in the province of Quebec. These conclusions stem from a mandate awarded to Condor Consulting Inc. ("Condor") (refer to January 27, 2011 press release). Condor has confirmed prominent conductors in association with known surface mineralization. These results will be instrumental in developing the first drill program on the Property. Copper One Inc. (TSX-V: CUO) is currently earning an interest in the Property and funding the exploration work (refer to January 18, 2011 press release).
Condor's preliminary prioritization and interpretation of the Property's geophysical data led to the identification of the above-mentioned 42 distinct CTZs. The CTZs range from a few hundred meters to 7,000 meters in length and span the entire property area for a cumulative of 75.8 kilometers of conductive zones. Nine targets are rated as high priority due to their close association with the recent surface discoveries and geochemical (till and bedrock) anomalies. These priority targets provide a cumulative of 24.8 kilometers of conductors with varying magnetic settings. A detailed interpretative process of the individual anomalies within the nine priority CTZs has begun in order to provide detailed drill targets.
Line-cutting on three select areas, two of which are priority targets, has commenced to support ground geophysical surveys.
The remaining 33 targets areas are situated in parts of the Property where the team has not conducted any field sampling. The exploration plan for these areas includes systematic reconnaissance mapping and sampling and geochemical surveys. The exploration plan aims to identify the best drill targets for massive sulphides associated with the large layered mafic intrusion.
"This targeting work is a significant in that it will focus the team on the best areas for near term discovery," commented Philippe Cloutier, President and CEO of Cartier. "It helps us break down this exceptionally large property into smaller typical project-scale plays."
Quality Assurance/Quality Control
The exploration program and the technical information presented in this press release have been reviewed and approved by Mr. Philippe Berthelot, P. Geo., Cartier's Vice President – Exploration, and by Thomas R. Kilbey, Copper One's Vice President – Exploration, a certified professional geologist. Mr. Berthelot and Mr. Kilbey are both considered to be qualified persons as defined by National Instrument 43-101.
About Cartier Resources Inc.
Cartier is an exploration company focused on gold and currently holds significant land holdings in the prolific Abitibi Gold Belt in Quebec. The company's portfolio of properties consists of wholly-owned projects which are managed by a team of geologists who have a proven track record of making significant discoveries.
-30-
For further information please contact:
Philippe Cloutier
President and CEO
Cartier Resources Inc.
Telephone: 819 874-1331
Fax: 819 874-3113
info@ressourcescartier.com
www.ressourcescartier.com
The TSX Venture Exchange does not accept responsibility for the adequacy or accuracy of this press release.