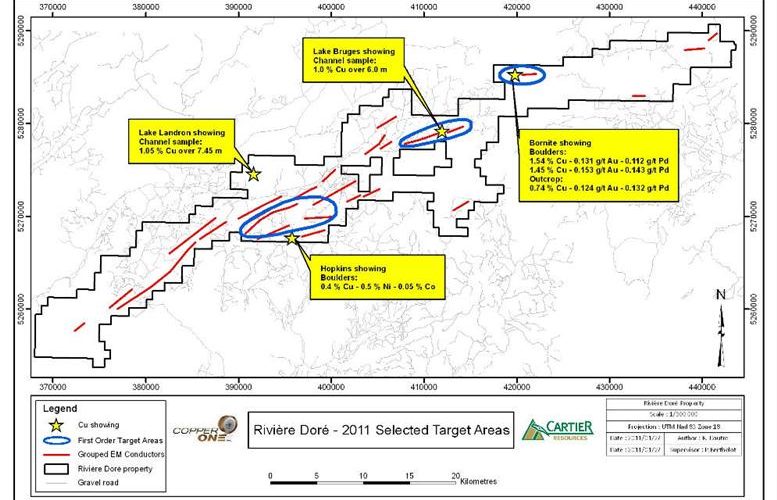 January 27, 2011
Copper One and Cartier Outline Dynamic Exploration Program on Rivière Dore Copper Nickel Property
Val-d'Or, Quebec, January 27, 2011, Cartier Resources Inc. (TSX-V: ECR) ("Cartier") is pleased to report that its partnership with Copper One Inc. (TSX-V: CUO) ("Copper One") has outlined a dynamic program on the Rivière Dore copper and nickel property (the "Property") located south-east of the town of Val-d'Or in the province of Quebec. Copper One has an option on the Property which covers an entire layered intrusive complex. Cartier and Copper One have recently reported numerous copper and nickel showings on the Property, with platinum group elements, including net textured copper-nickel sulfides in pyroxenite. The team has identified near term drill targets and has developed a parallel program to systematically explore the entire 52,400 hectare property.
Condor Consulting Inc. has been retained to lead the geophysical component of the exploration program. Condor utilizes leading edge technology and is among the world leaders in airborne electromagnetic interpretation. Condor's clients include many of the world's largest mining and exploration companies. They have been instrumental in discoveries associated with geological settings similar to that found at Rivière Doré.
Cartier and Copper One plan to drill on the vast, underexplored property during the second quarter of 2011. Preliminary interpretation of the heliborne electromagnetic geophysical survey conducted in 2010 has indicated numerous anomalies. Heliborne geophysics is a key component for this type of copper-nickel exploration. Condor Consulting Inc. has conducted rigorous modeling and interpretation of the geophysical data. A series of detailed targets is expected early in 2011.
In addition to drilling some of the highest priority initial targets, the overall exploration plan defines a systematic approach to exploring the entire property, including: additional reconnaissance mapping and sampling of new areas of the large property, ground geophysical and geochemical surveys, and certain petrographic and mineralogical studies of the mafic complex. Initial field visits have yielded multiple samples in different areas which have assayed greater than 1% copper over 6 meters. Additionally, encouraging levels of nickel, gold and platinum group metals have been identified. The exploration plan aims to identify the best drill targets for massive sulphides associated with the large layered mafic intrusion.
''This area has shown its potential from early stage prospecting results and numerous EM anomalies detected from the regional geophysical survey," commented Philippe Cloutier, President and CEO of Cartier. "The team will advance its evaluation with both a property scale surface program and focused drilling of first order geophysical targets.''
Quality Assurance/Quality Control
The exploration program and the technical information presented in this press release have been been reviewed and approved by Mr. Philippe Berthelot, P. Geo., Cartier's Vice President – Exploration, and by Thomas R. Kilbey, Copper One's Vice President – Exploration, a certified professional geologist. Mr. Berthelot and Mr. Kilbey are both considered to be qualified persons as defined by National Instrument 43-101.
About Cartier Resources Inc.
Cartier is an exploration company focused on gold and currently holds significant land holdings in the prolific Abitibi Gold Belt in Quebec. The company's portfolio of properties consists of wholly-owned projects which are managed by a team of geologists who have a proven track record of making significant discoveries.
-30-
For further information please contact:
Philippe Cloutier
President and CEO
Cartier Resources Inc.
Telephone: 819 874-1331
Fax: 819 874-3113
info@ressourcescartier.com
www.ressourcescartier.com
The TSX Venture Exchange does not accept responsibility for the adequacy or accuracy of this press release.