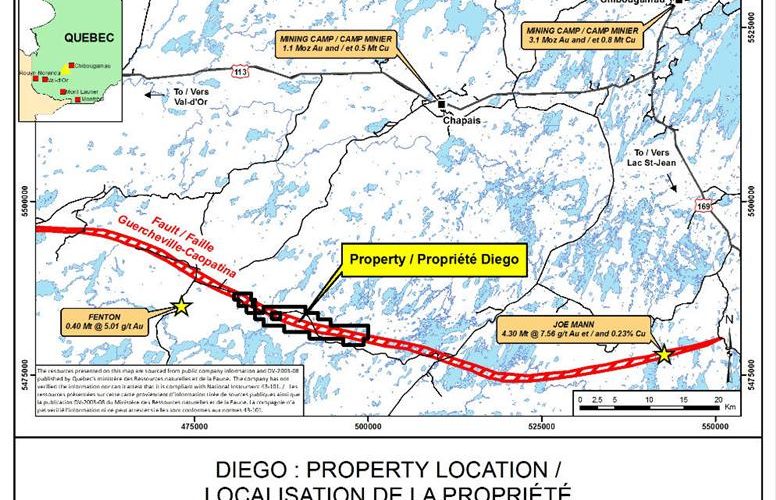 September 6, 2011
Cartier Drills Diego Gold Project
Val-d'Or, Quebec, September 6th, 2011 – Cartier Resources Inc. (TSX-V: ECR) ("Cartier") announces that it has commenced its first diamond drilling program on the Diego gold project south-west of the town of Chibougamau in Quebec. The project straddles the dominant gold-bearing structure of the area, the Opawica-Guercheville Deformation Zone («OGDZ») which is characterized by several gold deposits (Bachelor, Lac Short, Fenton and Joe Mann). The program consists of eight diamond drill holes totalling 1700 metres and targets three distinct areas for gold mineralization.
Historic drilling on the Diego project outlined an 8.0 kilometers by 1.2 kilometers porphyry intrusion that hosts several gold halos of which the main one is 2.4 kilometers by 0.3 kilometers. The average gold grades of the halos are of the order of 0.10 g/t Au (0.12 g/t Au over 161.5 m in hole GD-38; 0.09 g/t Au over 213.0 metres in hole GD-04) and contain higher grade zones (0.84 g/t over 9.1 metres in hole GD-18 and 0.43 g/t Au over 20.0 metres including 3.8 g/t Au over 0.6 metre in hole GD-38).
Cartier's work discovered new gold-bearing outcrops north of the historic drilled area. Grab samples returned up to 5.25 g/t Au, 4.82 g/t Au and 4.00 g/t Au over an area covering the sheared northern portion of a porphyry intrusion. No drilling was conducted over the northern portion of the intrusive where grades appear to be higher. In addition, Cartier completed an airborne magnetic survey and generated 20 diamond drill targets over the entire project. Of these, eight were selected for a first drill program. Prioritization of targets was weighted on the combination of: proximity to gold mineralization (surface and drilling), favourable geochemistry and fault intersection as suggested by geophysics and geology.
The objective of this program is to test three distinct areas across the project. A group of four holes target the previously undrilled northern portion of felsic porphyry intrusive known to host gold mineralization. Another three holes, situated 2 kilometers to the east target the eastern limb of the intrusive that parallels the OGDZ. One hole is planned over the north-western part of the project where the OGDZ is crosscut by east-northeast bearing structures.
"We believe our field and geophysical survey results confirm the potential for gold mineralization on Diego" commented Philippe Cloutier, President and CEO of Cartier, "our team has identified several target areas that we hope will lead to new discoveries."
Figure: Location of Diego Project
Quality Assurance/Quality Control
The exploration program and the technical information presented in this press release have been reviewed and approved by Mr. Philippe Berthelot, P. Geo., Vice President – Exploration. Mr. Berthelot is a qualified person as defined by National Instrument 43-101. The Diego exploration program is conducted under the supervision of Mr. Berthelot. Cartier has implemented and adheres to a strict Quality Assurance/Quality Control program which includes mineralized standards and blanks for each batch of samples. Assay samples are taken from drill core sawed in half with one half sent to a commercial laboratory and the other half retained for future reference. Analyses are either performed by Techni-lab S.G.B. Abitibi inc. in Sainte-Germaine, Quebec, or by ALS-Chemex in Val-d'Or, Quebec, both accredited laboratories.
-30-
For further information please contact:
Philippe Cloutier
President and CEO
Cartier Resources Inc.
Telephone: 819 874-1331
Fax: 819 874-3113
info@ressourcescartier.com
www.ressourcescartier.com
The TSX Venture Exchange does not accept responsibility for the adequacy or accuracy of this press release.