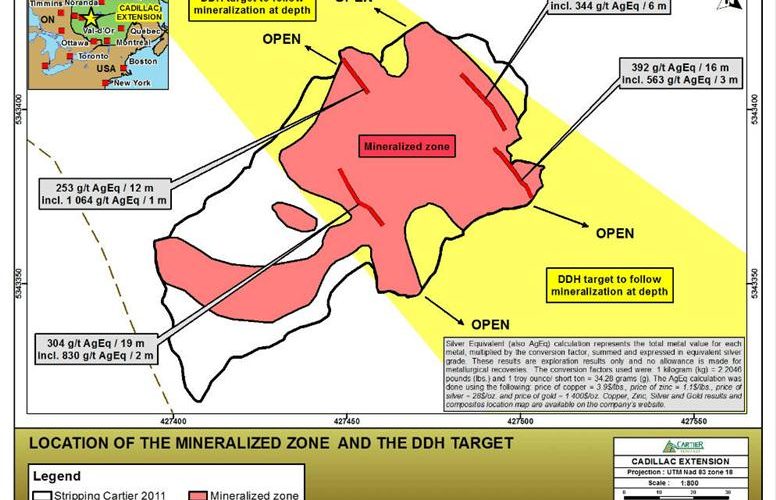 November 8, 2011
Cartier Commences Drilling on Silver Zone at Cadillac Extension
Val-d'Or, Quebec, November 8th, 2011 – Cartier Resources Inc. (TSX-V: ECR) ("Cartier") announces that it has commenced drilling on the Cadillac Extension project located 115 kilometers east of Val-d'Or in the province of Quebec. Drilling will focus on testing the continuity at depth of the mineralization outline at surface on the Langlade Deposit ( refer to October 6th, 2011 press release ).  Ten holes are planned for a total of 1 200 meters.
The targeted silver enriched polymetalic zone (copper-zinc-silver-gold) was delineated at surface over 4000 square meters (refer to Figure 1) and consists of disseminated to locally massive sulphides.  Drill targets were designed by factoring all the assay results, three dimensional modeling of the mineralized zone and recent geophysical results. The induced polarization ("IP") geophysical survey over the zone outlined an anomaly (refer to Figure 2) that correlates with the mineralization and supports field observations that the potential for the extension of mineralization remains open at depth as well as to the north-west and south.
"We are pleased to be drilling this very robust target" commented Philippe Cloutier, President and CEO of Cartier, adding, "This program will rapidly help determine if there is potential for Langlade at depth and further orient drilling in 2012".
Figure 1: Location of selected silver-rich composites at Langlade and proposed drilling
Figure 2: Geophysics: IP results
Quality Assurance/Quality Control
The exploration program and the technical information presented in this press release have been reviewed and approved by Mr. Philippe Berthelot, P. Geo., and Vice President Exploration for Cartier. Mr. Berthelot is a qualified person as defined by National Instrument 43-101. The Cadillac Extension exploration program is conducted under the supervision of Mr. Berthelot. Cartier has implemented and adheres to a strict Quality Assurance/Quality Control program which includes mineralized standards and blanks for each batch of samples. Assay samples are taken from drill core sawed in half with one half sent to a commercial laboratory and the other half retained for future reference. Analyses are either performed by Techni-lab S.G.B. Abitibi inc. (ACTLABS) in Sainte-Germaine, Quebec, or by ALS-Chemex in Val-d'Or, Quebec, both accredited laboratories.
-30-
Contact Information
Philippe Cloutier
President and CEO
Cartier Resources Inc.
819 874-1331
819 874-3113 (FAX)
info@ressourcescartier.com
www.ressourcescartier.com
The TSX Venture Exchange does not accept responsibility for the adequacy or accuracy of this press release.
---
Document(s)