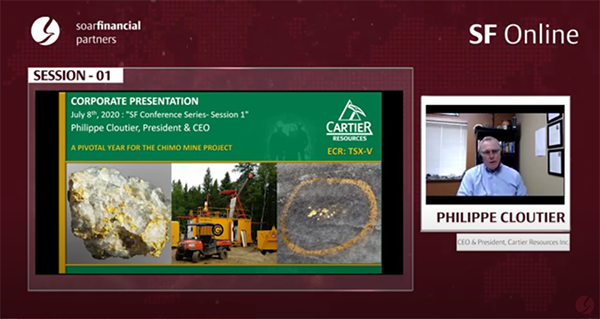 SF Online – Virtual Resource Conference Series – Session 01 July 08, 2020 Presentation: Cartier Resources Inc., Philippe Cloutier
Cartier Resources Inc. is drilling and developing the Chimo mine project just outside of Val d'Or, Quebec. The company recently published a resource update showing more than 1.2mn ounces of gold over all categories. President & CEO Philippe Cloutier gives a good update on the drilling and engineering studies. Cartier Resources Inc. (TSX.v: ECR) Dont miss any of our future events. www.soarfinancial.com/events Session 02 – August 12, 2020 Session 03 – September 09, 2020 Session 04 – October 14, 2020 Companies and Keynote Speakers to be announced shortly.
Disclaimer: This video is for informational purposes only and not to be regarded as investment advice whatsoever. Principals of Soar Financial Partners hold shares and options Cartier Resources Inc. Do your own due diligence!